Bio:
I was born in Reno NV, in Dec. of 1986. I grew up in that area throughout my childhood. I can remember always having a liking for massage even as a child. Shoulder rubs were common in my household.


After graduating from High school, and spending some time in College, I decided to do Massage as my career. Massage College was the most interesting coursework I ever did, even though it was often also the most difficult (memorizing anatomy and physiology texts- yikes!). However, my desire to really understand what was going on when I massaged my classmates and eventually my clients kept me going.


Upon Graduating from Massage College...
Powered by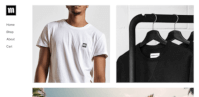 Create your own unique website with customizable templates.